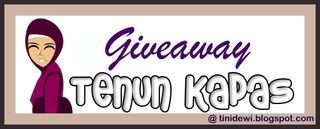 attention lovelies!
i am inviting you to join this giveaway from
tinidewi
and get a chance to win cash vouchers to be spent at
tenun kapas webstore
.
joining is easy, just follow the instruction below.
1. place the giveaway banner in your blog.
2. make a post about this contest inviting your readers to join. make sure to include the link to sponsor's website
www.tenunkapas.com
... i repeat,
www.tenunkapas.com
.
3. submit your entries
here
, at the comment section.
the contest will end on 21st august 2011 (sunday) at 12pm sharp.
and the winners will be chosen using the algorithm technique at www.random.org.
simple right?
for more info about the contest, kindly visit
tinidewi's blog
.
this might be your chance to win something.
no harm for trying it tho.
good luck!